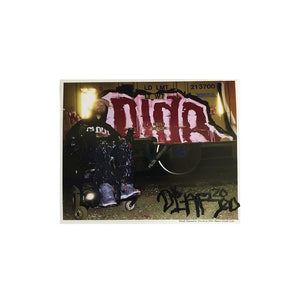 Benny DIAR, Train Painted & Print Signed by Mouth - 'A Night To Remember' Limited 2020 Prints - 8" x 10" Photo Print
After 11+ years in recovery, Benny DIAR was able to get back in a train yard, After a car accident in early 2008, left him paralyzed from the neck down. Once thought it to be impossible,, not only did he get in a train yard, but painted freight trains by brush, with his mouth. 
This was Benny's first night mission to the yard, as well as one of the first trains Benny painted by mouth. This photo was taken soon after Diar finished.
This 8" x 10" Photo Print signed by mouth. Benny made and signed these prints during the Covid 19 Pandemic. Small print on the bottom right corner with artist's name, year painted,, and printed. 2019-2020.
Thank you for your support,,

---
We Also Recommend
---